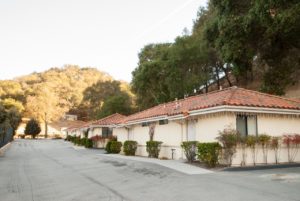 We are a small family owned property of 11 one bedroom cottages. We are conveniently located amongst the gently rolling hills of The California Central Coast, near wine country and the many offerings of San Luis Obispo County.
We offer weekly, and monthly rates. We pride ourselves on providing very clean and comfortable turn-key lodging. Following is an explanation of our property, included amenities, and general policies. If you have any additional questions please feel free to call and ask.
Each of our cottages is fully furnished with high quality furnishings, a queen size visco-memory-foam bed similar to a Tempur-Pedic, and full size kitchen appliances. None of our mattresses is kept in service longer than 12 months. Each cottage is outfitted with two high definition flat screen televisions – one in the living room and one in the bedroom.
All utilities, as well as cable television and high-speed wireless internet provided by Charter Spectrum, is included in the rental price. Guests at Atascadero Mission Cottages also enjoy health club and swim center privileges at the nearby Atascadero Kennedy Club Fitness Center. For a full description of this exceptional fitness and swimming facility please view their website at this link; www.kennedyclubs.com.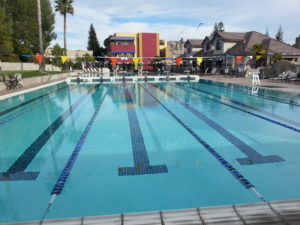 SOME DETAILS
Smoking is forbidden at our cottages. Housekeeping is not included during your stay. If you are interested in regular housekeeping services please inquire. Just ask and we will provide a high quality vacuum for your use. Each cottage is outfitted with complete bedding and two sets of towels for each guest. Our bed sheets and towels are 100% cotton. All towels and bedding (mattress pad, sheets, blanket, comforter, and pillows) will be new or in very condition. All towels and bedding is well laundered and rinsed twice so they are very clean and free of fragrances. Nearby laundromats and cleaners offer inexpensive wash and fold service, self-service laundry machines, and dry-cleaning for guests on the go. Our kitchens and bathrooms will be very clean upon your arrival. If you find any discrepancy whatsoever when you arrive please inform us. Kitchens are outfitted with a full size stove, microwave, and refrigerator. A set of high quality dishes and silverware, plus a basic set of cooking utensils are also provided. No cookware (pots, pans), coffee makers, toasters, or other small appliances are provided other than those which may have been left by previous guests. Cookware and small appliances can take a beating and require lots of work to clean and maintain. Basic models of these items can be purchased locally at very low cost if you don't want to bring your own. Ultimately this helps us keep our rental rates lower. A careless or messy cook can create a lot of cleaning work for us. Cleaning of the kitchen and appliances after your departure is charged at $25 per hour against your cleaning and security deposit. If cleaning requirements are so excessive that we are not able to return the cottage to service the following day then additional days will be deducted from the deposit. We are happy to provide household cleaning supplies (and cleaning advice) prior to your departure. If we incur additional costs to provide an arriving guest temporary lodging while we clean your cottage these costs will be deducted from your deposit. If you would like we are happy to inspect the condition of your cottage in advance of your departure to prevent any of these charges. If you would like to extend your stay beyond what you indicated during your initial reservation, please ask about this at your earliest opportunity. Your cottage may already be reserved by another guest. We will always do our best to accommodate you. We endeavor that you are extremely satisfied and happy with your lodging experience here, and that you enjoy your visit to this beautiful California Central Coast region.
SOME COMMON SENSE PLEASE
Please be courteous and considerate of other guests at all times. This is common sense, and includes (but is not limited to) noise, vehicle operation, parking, and smoking outdoors.
No smoking inside cottages – Violation will result in your removal, lockout, and forfeiture of your entire security and cleaning deposit. Guests that violate our no smoking policy will be held legally and financially liable for the following; complete cleaning and repainting of the interior, cleaning or replacement of all hard and soft furnishings as necessary to remove odors, lost rental income for the days required for full remediation of the cottage, temporary lodging costs for any booked and arriving rental guest(s), and any other expenses incurred to renovate the cottage to it's condition prior to your arrival. If you smoke outside, please be considerate of others. Please extinguish cigarettes and dispose of them properly.
No pets allowed without prior arrangement. We have a couple of units designated as pet friendly cottages for guests with a small dog or cat. You will not receive a "pet designated" cottage unless you've asked for one – and one has been promised during your initial registration. Dogs must be kept on a leash at all times when they're outside your cottage. You must have proof of your pet's licensing and up to date vaccinations. Please pick up after your pet. Visitors are not permitted to have pets on the property at any time.

Cottage rental rates are for up to two guests per cottage. Additional guests above two are $10 each per night. No overnight guests beyond those initially registered are permitted without prior permission and payment of the additional guest lodging fee.

Each cottage has two assigned parking spots. One is in front, and the other along the side of your cottage.

Nothing shall be stored outside or behind your cottage without permission.

Small barbecues are allowed. We also have barbecues to loan out. For fire safety and to prevent smoke damage please only barbecue on the asphalt surface at a safe distance from the cottage eaves. Please make sure they your barbecue is fully extinguished when you are done.

Vehicle repair and washing of vehicles is prohibited. A self-service car wash is located very close to our cottages.

Please drive slowly and be diligent at all times entering the driveway and parking area. There may very well be small children playing or riding toys.

No unlawful activities. Violators will promptly be removed from the property courtesy of the local police.